Many popular destinations and important services in the Nysse area are along public transport routes. Most destinations can be found by keyword in the Journey Planner.
Are you on your way to these destinations?
Nokia Arena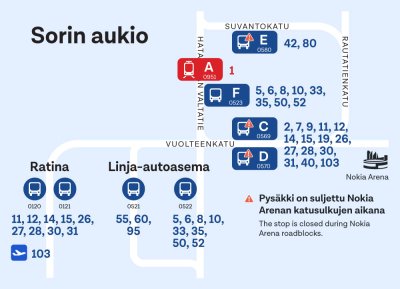 Nokia Arena is located in the center of Tampere, between Ratina and the city centre campus of Tampere university. The arena is a short walk from the bus and train stations as well as Sorin aukio and Ratina stops.
The near blocks of Nokia Arena will be closed to traffic during major events to allow the public to move around the area safely. There will be roadblocks at Vuolteenkatu, Rautatienkatu and Kalevantie, and buses 2, 7, 9, 11, 12, 14, 15, 19, 26, 27, 28, 30, 31, 40, 80, 95 and 103 will run detours.
Särkänniemi
Bus line 2 takes you directly to Särkänniemi. The line runs the route Rauhaniemi - Lapinniemi - Tammela - Tampere-talo - Sorin aukio - Keskustori - Hämeenpuisto - Särkänniemi.
Several public transport buses operate near to Särkänniemi throughout the year. The walk from the Paasikivenkatu stops to the amusement park is about 300 m.
Buses 9, 19 and 80 stop at the Särkänniemi stop on Paasikivenkatu. There are stops in the city center, e.g. Sorin Square, Keskustori and Hämeenpuisto.
Bus 13 runs to Särkänniemi (the Särkänniemi stop on Paasikivenkatu) from Ratinanranta, Hämeenpuisto and Lielahti.
Tram 3 operates to Pyynikintori, from where there is a guided walking route to Särkänniemi.
Find the best connections for your trip in the Journey Planner.
More information on arriving to Särkänniemi on the Särkänniemi website ›
Tampere Exhibition and Sports Center
Tampere Exhibition and Sports Center is located 6 km from the center of Tampere, near the Pirkkala border. You can easily reach the exhibitions and events by Nysse services.
Bus 12 runs to the exhibition center daily from Tampere and Pirkkala. Buses 101 and 102 are in service during major events. Schedules can be found in the journey planner guide at the time of the events.
Fast line to Tampere-Pirkkala Airport
The bus line 103 runs daily between Tampere-Pirkkala Airport and Tampere. The route passes through the train station and bus station in the city center. The bus line to Airport is fast, the journey from Tampere takes about 30 minutes.
The bus 103 serves all flights
The line 103 has connections for both departing and arriving flights. The bus is at the airport about an hour before the departure of the flight and the bus is waiting for passengers arriving at the flight. If the flight is delayed, the bus will wait for passengers within the limits allowed by the bus schedules.
Bus 103 stops and picks up passengers in front of terminals 1 and 2 at Tampere-Pirkkala Airport. Line schedules are subject to change due to changes in flight schedules.