Travel to Särkänniemi with Nysse
Särkänniemi
Several public transport buses operate near to Särkänniemi throughout the year. Find the best connections for your trip in the Journey Planner. The walk from the Paasikivenkatu stops to the amusement park is about 300 m.
Tram 3 operates to Pyynikintori, from where there is a guided walking route to Särkänniemi.
Buses 9, 19 and 80 stop at the Särkänniemi stop on Paasikivenkatu. There are stops in the city center, e.g. Sorin Square, Keskustori and Hämeenpuisto.
Bus 13 runs to Särkänniemi from Ratinanranta, Hämeenpuisto and Lielahti.
More information on arriving to Särkänniemi on the Särkänniemi website ›
Tickets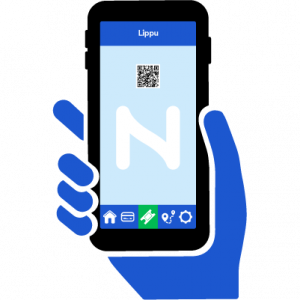 You will need a ticket for at least two zones (AB) for the trip. Buy a single ticket on the bus with contactless payment (all age groups € 2.70) or a moment before the trip from the Nysse Mobiili app:
Adults (25 years and older) € 2.70
Youth (17 to 24 years old) € 2.00
Children (7 to 16 years old) € 1.35
Tickets are valid for 90 minutes from the time of purchase. Please note that you can only pay for one person's trip with the same contactless payment instrument (payment card or mobile application). From Nysse Mobiili app you can buy tickets for more passengers.