Public transport belongs to everyone and we do our best to make it easy for everyone to use. The majority of our buses are low-floor. The tram stops are built on the floor level so the distance between the platform and the tram is only 4 cm.
There are buttons in buses and trams for the users of the aids, which allow the driver to note your need for assistance. The bus can be lowered at the stop and the bus and tram doors can be kept open for longer.
Seats near the entrances are reserved primarily for special groups, such as the elderly, people with reduced physical and sensory needs, and pregnant women. Places are usually marked with an icon. Even if the seat is not marked, it is polite to give the seat to those who need it more.
Accompanions for disabled passengers
An escort for a disabled person can travel free of charge if the disabled passenger has an EU A-marked disability card with him or her. The disabled passenger pays his or her trip normally unless they are otherwise entitled to free travel.
Prams and pushchairs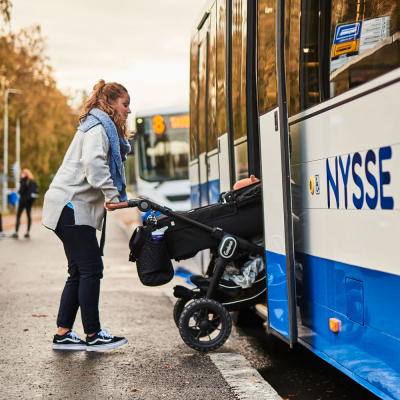 With prams and pushchairs, travelling is free of charge. The reason for the free payment is the safety of the child - this way the child does not have to be left alone during payment.
Use the pram button to give the driver a sign to tilt the bus or hold the doors as you get on or off. The tram stops are built on the floor level, so entry is unobstructed.
Take care of the child throughout the trip
On a bus, place the pram with their right side facing the direction of travel, immediately behind the front seat row (or next to the strollers or wheelchairs already on the ride). In the tram there are symbols above the doors indicating which car has space for prams.
Lock the pram or stroller with the brakes, hold on to them and make sure they do not fall over. We recommend that for safety reasons, the child travels in a stroller or pram throughout the journey. Empty pram or strollers do not entitle you to free travel.
Digital services
Our online services are intended to be implemented in such a way that they are accessible to everyone, regardless of disability or characteristics, such as age, vision or hearing, or permanent or temporary disabilities. Accessibility of online services requires the identification and consideration of different user needs. Our services are always developed to be more accessible.

Prepare for rush hours
Be prepared that you may not be able to take the shift you pursued,as the space for aids and other means of transport is limited. Boarding takes place in order of arrival, various customer groups have not been prioritized.
The busiest hours are 7-9 a.m. and 2-6 p.m. on weekdays. You can check the trip from the journey planner.