Public transport is a safe and fun way to travel for a child. Children under 7 years old are allowed to travel free of charge with an older passenger. Children aged 7–16 years travel with a children's ticket.
Get your child his/her own travel card
The easiest and most affordable option for children is the travel card. The season ticket is suitable for regular trips, and the single ticket for more occasional travel.
You can order the travel card for your dependent child in the Nella.fi online service by using Suomi.fi authorizations. The travel card can be ordered well in advance of the child's 7th birthday. For more information on how to order a travel card and act on behalf of someone else, see the Nella.fi manual.
If the travel card is lost, the Nysse Mobiili app can be used to buy a single ticket according to the age group before the trip.
Safety on board Nysse
It is recommended to regularly go through traffic rules and talk about travelling on public transport with children. It is also good to talk with a child about how to behave on each mode of transport, at the latest when the child begins to travel alone.

In the video below, Onni the bear and friends travel with Nysse and instruct the viewer on how to travel safely.
Video nu även på svenska.
How to instruct your child to use public transport
Talk about traffic rules and about how to behave on public transport.
Practise travelling together with the child.
Set a good example and be encouraging.
Whole family on board Nysse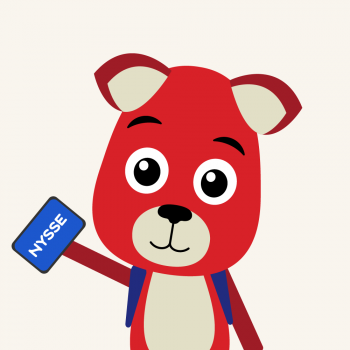 Nysse's ticket selection offers plenty of options for people of all ages, and for all kinds of activities from daily school transport to spending a fun weekend around Tampere.
The season ticket is the best and most affordable option for regular transport. Children and youth receive a discount for season tickets.
Occasional trips can be paid for with the value tickets on your travel card or with the Nysse Mobiili app.
Single tickets can also be paid for with contactless payment. Please note that you can only pay for one person's trip or trips at a time with contactless payment.
Those travelling with baby carriages or strollers are allowed to travel free of charge on public transport.
Together, we can make a sustainable tomorrow
It is good to familiarise children with sustainable modes of transport from a young age:
Favour cycling and walking whenever possible.
Use public transport when travelling longer distances.
Combine different modes of transport and try different ways of going about your familiar routes.
The City of Tampere aims to be carbon neutral by 2030, which means at least halving current traffic emissions. The goal is to increase the share of sustainable modes of transport – walking, cycling and public transport – to 69 per cent. Each of us can influence traffic emissions through our own movement choices!

Something to do for little travellers
More information