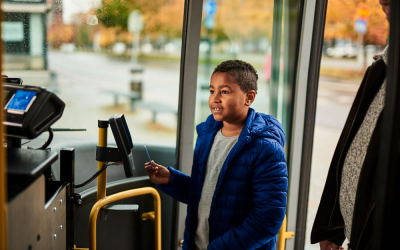 Children under 7 years may travel free of charge when accompanying a paying traveller. Our youngest passengers will receive a cardboard training card from customer service if they wish.
After the age of 7, the child must have a ticket. The season ticket is suitable for regular trips, and the single ticket for more occasional travel. Your child may also be entitled to free school travel.
You can order the travel card for your dependent child from Nella.fi online service by using Suomi.fi authorizations.
Prams and pushchairs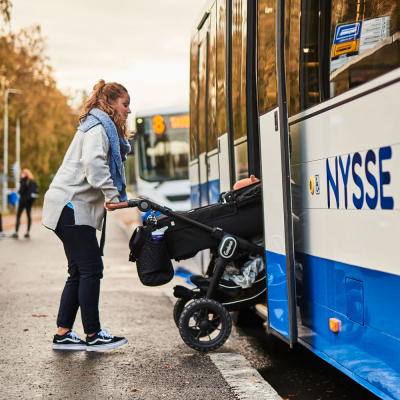 With prams and pushchairs, travelling is free of charge. The reason for the free payment is the safety of the child - this way the child does not have to be left alone during payment.
Use the pram button to give the driver a sign to tilt the bus or hold the doors as you get on or off. The tram stops are built on the floor level, so entry is unobstructed.
Take care of the child throughout the trip
On a bus, place the pram with their right side facing the direction of travel, immediately behind the front seat row (or next to the strollers or wheelchairs already on the ride). In the tram there are symbols above the doors indicating which car has space for prams.
Lock the pram or stroller with the brakes, hold on to them and make sure they do not fall over. We recommend that for safety reasons, the child travels in a stroller or pram throughout the journey. Empty pram or strollers do not entitle you to free travel.
More information