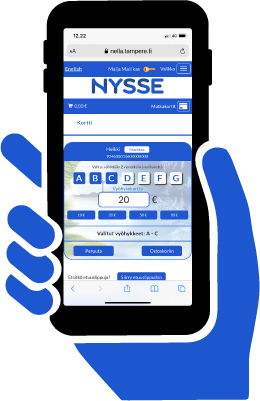 Nella is an online store where you can buy travel cards and travel card tickets. Create a user account and add your travel card as wella as your family's travel cards onto your account. You can pay the purchaces by online banking, debit or credit card or by mobile payment (Paytrail payment service).
The travel card will be mailed within a few business days. Also note the time it takes to transport the mail.
The ticket is available 2 hours after purchase. Use your travel card as usual after your ticket purchase. The ticket will activate onto the travel card as you pay the service
in public sports services of Tampere, Nokia and Ylöjärvi.
The two-hour delay is for data transfers to all ticket devices. The data will stay on the devices at least for two weeks. You can also activate your ticket within 2 months in the customer service. Travel card balance will be updated to Nella within a day.

In Nella.fi you can
order a new travel card for yourself, your dependent child or another person who has given you authorization in the Suomi.fi service.
purchase value or season tickets for travel cards added to the user account.
buy benefit tickets issued to you or your child (eg employment ticket, Kela-supported student ticket or school ticket)
check travel card balances
update your phone number and email address in the Nysse customer register
Instructions
Create a Nella user account
To create a Nella account, you need your active email address. You can get more detailed instructions when registering in the Nella.fi online service. Once you have activated your user account from the link you received in the email, you can order or add travel cards to your account, purchase tickets for them, and track their ticket balances. You can also buy an electronic gift card from Nella, which is used as a means of payment at Nella or customer service.
Add travel cards to your account
Apply your own travel card to the account from Nysse customer register by strongly identifying yourself. Cards ordered from Nella will automatically appear in your account. You can see the ticket balance, purchase history and usage history of the card. The card retrieved from the register is identified by a golden key in the travel card information.
A travel card registered by others, such as a family member or a company, can be added by using the travel card number. This way you can only see the ticket balance of the card. The cards can be named as you wish. The names only appear in your Nella account, they are not saved in the customer register.
Holder-specific travel cards cannot be added to a Nella account and cannot be ordered from Nella. A holder-specific travel card can only be purchased from a customer service point.
Order a travel card
Order a new travel card by using +Buy or Add Card -button.
You will receive your travel card by post approximately one week later (no international deliveries). Please read the General travelling and Travelcard conditions of Tampere Regional Transport before ordering the card.
Hown to buy tic­kets
Select the travel card for which you want to buy a ticket.
Choose a ticket*
Add the ticket to cart. Continue shopping or pay your purchace.
If you have a gift card or campaign code write it at the cart. The payment transaction must always be completed, even if the total amount is 0.00 euros.
*Tickets
Buy value Select the zones and the amount of purchase: € 10 - 120. The card balance can be up to € 120 (old balance + purchase).
Buy period Select the desired period and the zones.
Move to Supported Tickets Click the button and identify yourself in Suomi.fi -service. You will then see the supported tickets you are entitled to. Users under the age of 18 will be identified by their personal identity code.
How to activate the ticket onto travel card
Information of your purchase will be transferred to the ticket devices within 2 hours of the payment transaction. The devices are at buses, trams, train station platforms and at the gates of puplic sports services.
Keep the travel card on the front reader of the device until the download and payment are completed. No receipt will be printed for the transaction. Travel card balance information will be updated to Nella within a day.
Gift card
You can buy a digital gift card on Nella.fi. You will receive a code by email, that can be used to pay for purchases on the Nella.fi and customer service. You can give the code as a gift for anyone to use.
Select Buy Gift Voucher from the menu and enter the desired value (€10.00–120.00). Add the purchase to the cart and pay for it by the payment method of your choice.
When you are using the gift card, enter the code in the field provided in the shopping cart. You don't have to use the value at once. You can pay a part of your purchase with the code and other part with another payment method.
Is your Nel­la account loc­ked?
Nella's user account can be locked if you enter your password incorrectly too many times. A locked account can be opened
by resetting the password or
waiting 24 hours, after which you can use the old password.
If these steps do not open your account, start over and create a new user account. You can use the same email address as before to register, but you will need to change your username. A locked account will be automatically logged out if it is not opened within a year.
Other Nella functions
Travel cards
Travel card You can check the travel card's current value or period and buy new tickets.
The loading history is available for travelcards retrieved from the register using strong authentication. This information is not available if the travelcard has been added to a user account by the card number
Profile functions
Profile You can change the email address and phone number in your user details.
Customer register Suomi.fi -e-Authorization gives you permission to your information from our customer register. You can change your email address and phone number entries.
Purchases are displayed under the current Nella Nettilataus username for a maximum period of 12 months.
Notifications
You can set up automatic email notifications for the ticket balances of the travelcards added to your user account. The notifications will be sent to the email address linked to your user account. Select
the number of days remaining in a season ticket that will trigger a notification
the remaining balance on a value ticket that will trigger a notification
the Travelcards for which you want to set up notifications.
Notifications will not be sent if the Travelcard in question has a purchased ticket that is pending loading or use.
More information