Nysse is simple and stress-free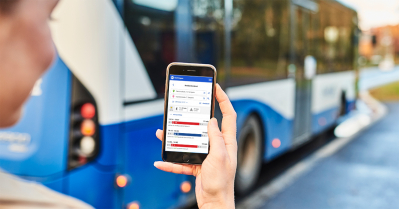 With a bit of planning, you can make your first trip so comfortable that the next ones become an easy routine. You can get on board to bus and tram with most aids and means of transport.
Many downtown stops have a digital, real-time timetable display. At the most used stops, you can wait for a ride sheltered from the weather. The journey planner helps you plan your trip with real-time schedules from your door to your destination.
Tips
Always be on time to stop, as schedules may deviate by a few minutes due to weather conditions or traffic flow.
If the journey to the stop is long, you can drive your own car to the access park and continue the journey by public transport.
Those who need a door-to-door transport service with assistance, should familiarize themselves with municipal service buses.
Get a ticket in time
Nysse's whole service area uses the same tickets. You can travel by bus, tram or train and combine them according to your needs. Charge your travel card well in advance or buy a mobile ticket before you travel. You can also use your credit cards contactless payment to pay for buses and trams. The service area is divided into six zones A – F and at least 2 adjacent zones are always selected for the ticket. More information about the zones ›
Confirm your travel rights with a ticket reader device whenever you get on public transport, including transfers. The ticket machine is located on the front door of the bus and near the central doors in the tram. For train journeys, the ticket device can be found at the station platform, and the right to travel must be confirmed before boarding the train.
With single tickets (value ticket, mobile single ticket or single ticket) you can travel for 90 minutes as many trips as you can. When paying with contactless payment, the so-called price cap is in place. If you make more than one trip in 90 minutes, you will only be charged for one trip. The system will automatically calculate the cheapest ticket for you based on the trips you have made.

Have a nice trip!
Give the bus a stop signal by waving your hand. The bus turn signal flashes when the driver has seen your sign. As a rule, boarding is done from the front door.
The tram stops at every stop, so there is no need to give a signal. The ride is easily accessible from the wagon level through the central doors. The front and rear doors are primarily for exit. The doors can be opened with a button if they do not open automatically. The symbols on the center door of the tram indicate places for a carriage, wheelchair, bicycle, or pet.
Travel with prams and pushchairs, a wheelchair and a rollator is free of charge. With other large luggage, the trip is paid for normally. For vehicles for people over 7 years of age, for example bicycles, a one-time travel fee (value ticket, mobile ticket or one-off ticket) must be paid. For children under the age of 7 these accompanying vehicles are free of charge.
Take the other passengers into account
On public transport, keep the front of the doors clear to allow passengers to move in and out smoothly. Pay attention to the space reserved for special groups, keep your luggage on your lap or on the floor and give space for those boarding the vehicle.
Guide dogs are always welcome aboard to perform their work. You can also travel with a pet, but make sure that the animal does not bother other, for example allergic passengers. Use headphones as needed, but also consider other passengers and any possible announcements.

Links and more information