Nysse service area is divided into 6 payment zones A, B, C, D, E and F. The heart of the area is in zones A and B in Tampere. Other zones surround the center of the area.
Always select at least 2 adjacent zones for your ticket, even if your trip is in only one zone. The prize of your ticket is based on to the number of the selected zones.
If the default zones on the travel card are not suitable for your trip, buy a single ticket with the value of the travel card and select the zones with the bus or tram ticket device. Zones will return to defaults when the ticket has expired.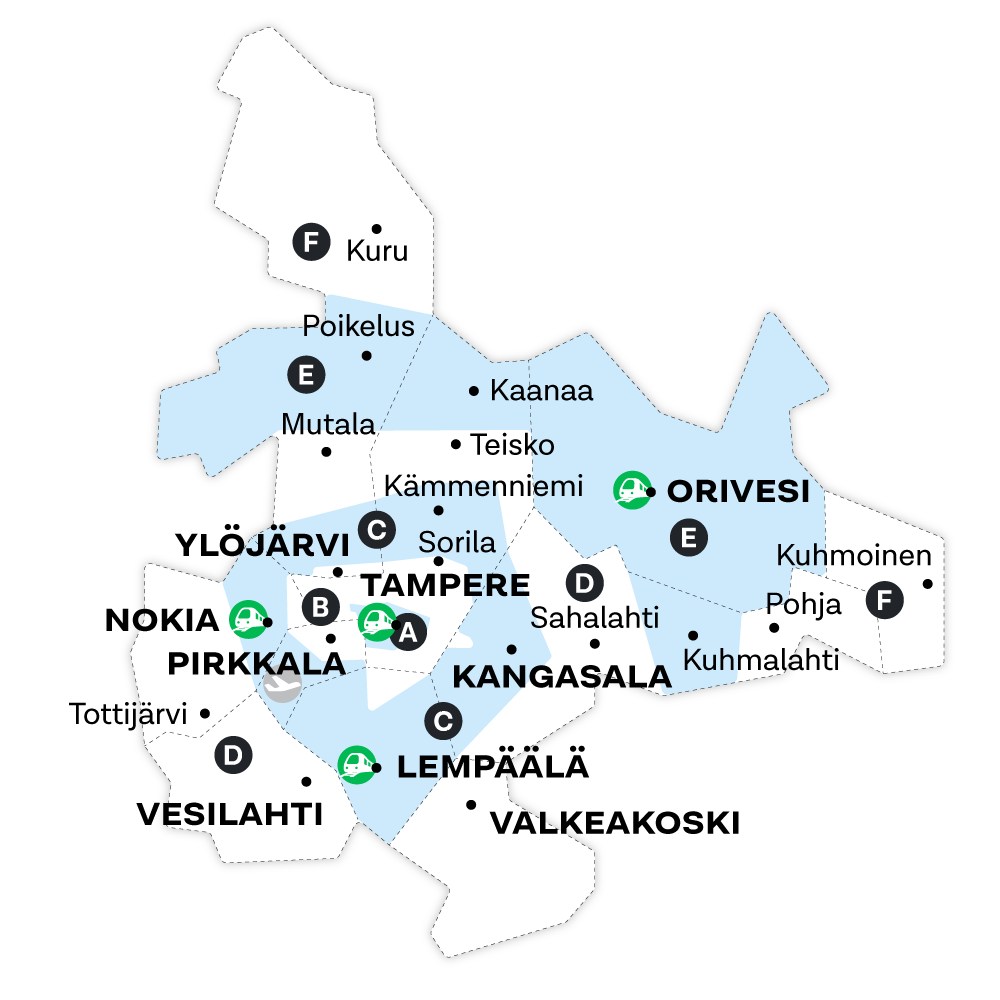 Detailed zone information can be found in the scheduling services
Check the zones you need for your trip in the stop information of the Journey Planner or timetable service. You can view zone boundaries on the map in the Journey Planner, which works best on large screens. Select the zone appearance in the service settings.
Zones by region
Tampere
Zone A: the center of Tampere, Tammerkoski, Kyttälä, Ratina, Pyynikki, Tahmela, Särkänniemi, Santalahti, Hyhky, Pispala, Härmälä, Taatala, Nirva, Korkinmäki, Messukylä, Ristinarkku, Pappila, Takahuhti, Kaleva, Tammela, Lapinniemi, Petsamo, Kissanmaa, Ruotula, Kauppi, Uusikylä, Hakametsä, Kalevanrinne, Viinikka, Hatanpää, Vihilahti, Rantaperkiö, Taatala, Nirva, Veisu, Muotiala, Jokipohja, Nekala, Turtola, Viiala, Vuohenoja, Niihama
Zone B: Lakalaiva, Lahdesjärvi, Peltolammi, Multisilta, Sääksjärvi, Höytämö, Sarankulma, Toivio, Haapalinna, Kaarila, Ranta-Kaarila, Epilä, Epilänharju, Tohloppi, Hiedanranta, Lielahti, Ryydynpohja, Lintulampi, Niemi, Niemenranta, Pohtola, Rahola, Villilä, Kalkku, Ikuri, Tesoma, Haukiluoma, Lamminpää, Myllypuro, Vuores, Hervanta, Rusko, Annala, Kaukajärvi, Lukonmäki, Hallila, Haihara, Hakkio, LInnainmaa, Vehmainen, Leinola, Holvasti, Atala, Kumpula, Tasanne, Ojala, Olkaninen, Nurmi, Sorila, Aitolahti, Aitoniemi
Zone C: Kolunkylä, Kämmenniemi, Viitapohja
Zone D: Teisko, Terälahti, Maisansalo
Zone E: Pääskynsaari, Velaatta, Kaanaa, Kapee
Kangasala
Zone B: Nattari, Vatiala, Lemponen, Kiveliö, Lemponen, Liuttu, Ilkko
Zone C: the center of Kangasala, Lentola, Suorama, keskusta, Taraste, Laureeninkallio, Ruutana, Perälä, Suinula, Ranta-Koivisto, Ohtola, Mäyrävuori, Herttuala, Huutijärvi, Tiihala, Suomutka, Keso, Metsäkulma, Tursola, Päkinmäki, Pikonlinna, Kangasalan asema, Kyötikkälä, Jussila
Zone D: Kaivanto, Sahalahti, Ponsa
Zone E: Kuhmalahti, Eräjärvi
Zone F: Pohja, Kuhmoinen
Lempäälä
Zone B: Sääksjärvi
Zone C: the center of Lempäälä, Ideapark, Asemakylä, Kulju, Vanattara, Marjamäki, Kiviaho, Moisio, Sarapisto, Hollo, Säijä, Haurala, Laasoportti, Rautasema, Pitkäsaari, Kelho
Nokia
Zone B: Pitkäniemi
Zone C: the center of Nokia, Sarpatti, Maatiala, Viiki, Vihola, Tyrkkölä, Kattilainen, Sotka, Tervasuo, Sammalisto, Haavisto, Utolankylä, Harjuniitty, Lauttala, Taka-Lauttala, Alisenjärvi, Lähdeniitty, Lähdekorpi, Halimaa, Ilkanalue, Myllyhaka, Kankaantaka
Zone D: Linnavuori, Taivalkunta, Sarkola, Tottijärvi
Pirkkala
Zone B: the center of Pirkkala (Suuppa), Pere, Nuoliala, Pakkalankulma, Killo, Haikka, Kurikka, Linnakorpi, Linnakallio, Takamaa, Vaitti, Huovi, Lepomoisio, Katajala, Turri, Kyösti, Niemenmaa
Zone C: airport, Pirkkalankylä, Sionkylä, Koivisto, Sorkkala, Höökinmäki, Äijälä
Ylöjärvi
Zone B: the center of Ylöjärvi (Soppeenmäki), Vuorentausta, Pohjola, Siivikkala
Zone C: Pappilanniemi, Kirkonseutu, Urkonmäki, Elovainio, Julkujärvi, Metsäkylä, Haavisto, Hietasmäki, Asuntila, Vastamäki
Zone D: Takamaa, Mutala
Zone E: Viljakkala, Poikelus
Zone F: Kuru
More information