Always select at least 2 zones
Nysse serves in
Tampere
Kangasala
Lempäälä
Nokia
Orivesi
Pirkkala
Vesilahti
Valkeakoski and
Ylöjärvi.
The traffic area is divided into six zones A, B, C, D, E and F. The zones revolve around Tampere, starting from zone A.
The boundaries of the zones are based on the length of the trips from the center of Tampere. At least 2 adjacent zones are always selected for the ticket, even if the journey is within one zone only. The zone is marked for each stop in the journey planner and other Nysse timetable services.
You can see the exact zone boundaries in the journey planner
The journey planner tells you which zones you need for your trip. You can also view the boundaries on the map of the service by selecting the boundaries from the displayed options (What should be shown on the map? Select: Zones). The settings can be found in the lower right corner of the map window.

Alternative zone trips
A trip that deviates from the default zones of the ticket is paid for with a value ticket.
Do not use the card in a reader device, but select MAKSA POIKKEUSMATKA on the screen.
Select the zones you need for your trip. For example, a trip from Nokia via Tampere to Lempäälä includes zones A, B and C.
Insert your travel card into the reader. The exception setting also applies to transfers. After your time for transfer is finished, the setting must be made again if necessary.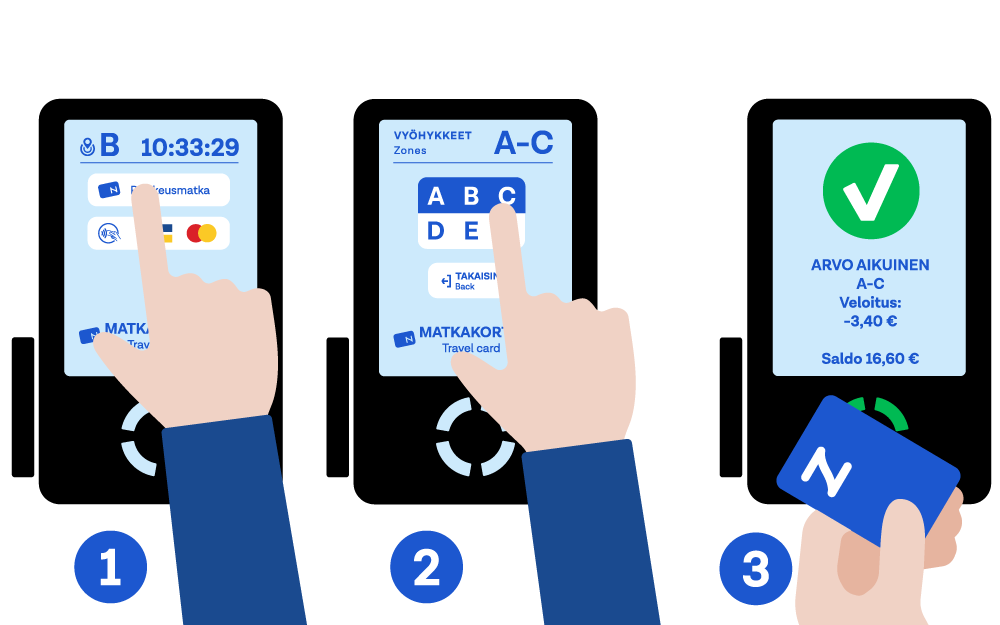 If necessary, the default zones of the value ticket can be changed at charging points or by a new ticket purchase. Season ticket zones can only be changed with a new ticket purchase.