The best connections for your trip
The Nysse journey planner provides comprehensive information on Nysse's travel options. The service is easy to use with most devices - both on a mobile and at the office.
Instructions
Travel search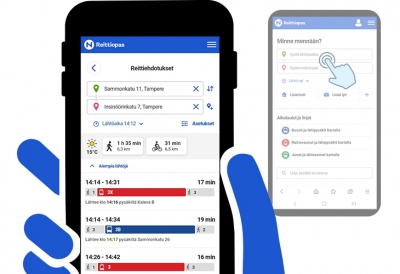 Where do we go? Let the journey planner locate you or enter your starting point in the search field. Also enter the destination and Departure Time.
As a result, the travel search gives several options. The stages and lengths of the trips are visually displayed in the search results on the route line, which makes the routes easy to outline and it would be easier for you to choose a suitable route. In addition to public transport, route search also shows walking and cycling as alternatives.
Tips
You will also see the weather forecast in the travel search. You might be wondering if cycling in sunny weather would be a nice option!
Nearby stops and lines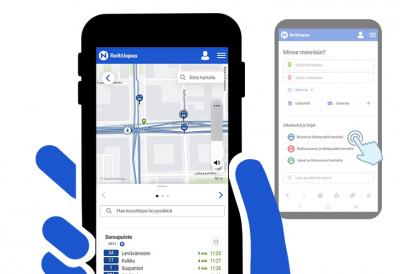 The Nearest Stops feature is a handy way to find information about nearby stops and vehicles. With one click, you can see the stops in your area with timetables and vehicles on the map.
Tips
With this feature, you can quickly check schedules when you know which route you want to travel, for example, from home to work.
In addition to buses and trams, the function can be used to select nearby train stations and their timetables.
Stay up to date
You can see changes and other current issues related to the lines, stops and areas you have saved on the front page of the service.
Line search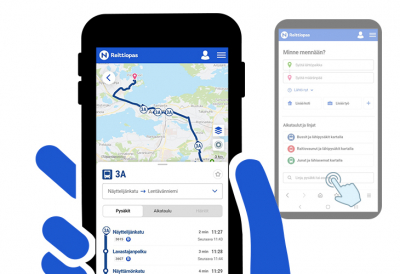 If you want to view the route, timetables or vehicles of a specific line on the map, you can easily see them with the search function.
With the same search, you can also search for timetables of the stops you want.
Give it a go
The journey planner operates at https://reittiopas.tampere.fi
You do not need to install a separate application or register for the service. You should link the address to your smartphone's home menu so that the service is quickly available. You can save your searches as favorites.
The service utilizes real-time information based on the location of both the passenger and the means of transport. The journey planner works on the open source Digitransit routing platform developed by HSL and Traficom. The recommended browser for the service is Google Chrome or Mozilla Firefox.