Buy your ticket on Nysse Mobile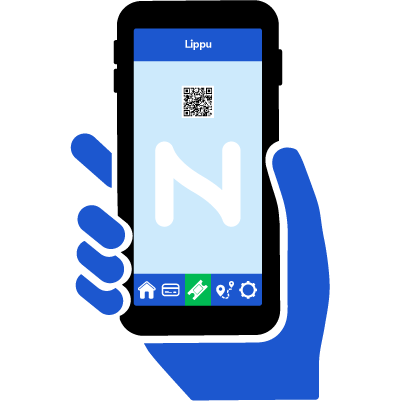 The day ticket offers 24 hours of travelling by bus, tram and train in the zones of your choice.
The travel time always starts at the time of ticket purchase so it is advisable to buy a new ticket only after the old ticket has expired. The night fare will not be charged.
You can also buy a ticket for another passenger if you are traveling together. 0-6 year olds do not need a ticket with an older passenger.
Confirm your right to travel on each of your trips by showing the ticket qr-code to the bottom reader of the ticket device.
Make sure your phone has enough power.
Screenshot of the ticket or recording of the screen does not justify the trip. An inspection fee (€ 80) can be charged for a person traveling without a ticket.
Fares are for 2-6 zones. The night fare will not be charged.
| | | | | | |
| --- | --- | --- | --- | --- | --- |
| Nysse Mobiili app › | 2 | 3 | 4 | 5 | 6 |
| Adults 25+ | 7,00 | 9,00 | 11,00 | 13,00 | 15,00 |
| Youth 17-24 | 5,25 | 6,75 | 8,25 | 9,75 | 11,25 |
| Children 7-16 | 3,50 | 4,50 | 5,50 | 6,50 | 7,50 |
More information