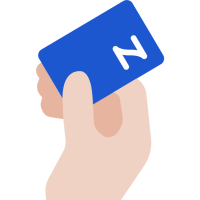 The travel card is most convenient to buy and load in the Nella.fi online store. You can pay the purchase in online banking, by debit card or mobile payment (Paytrail payment service). Nella.fi user manuals ›
If you cannot shop online, you can also buy a travel card and tickets from customer service.
Travel card downloads and advance tickets
Gift certificate
You can buy an electronic gift certificate from the Nella.fi online service or at customer service. A gift certificate purchased online can be worth € 10-120 and will be delivered to you by email. The email contains a code that can be distributed as desired to the recipient of the gift. The value of the certificate is not limited at customer service and the code is given with a paper receipt.
The gift card code is valid as a mean of payment for Nysse tickets or products at Nella.fi or at customer service. The code is valid for one year from the date of purchase. You do not have to use the value at once.
Commitments
If you have been issued a commitment, please visit Nyssen Customer Service. Bring your ID. For more information on the tickets or products available under the commitment, please contact the issuer of the commitment.
More information