Aids and means of transport
To make your trip go smoothly to your destination, you can have an aid or a mean of transport with you. For safety reasons, it is forbidden to use the mean of transport on a bus or tram. The use of assistive devices such as a wheelchair or rollator is permitted.
The following means of transport are not transported due to their size or safety reasons:
cargo wheels, recumbent wheels and tricycles for 7 year olds and older
kick sleds (with wheels or slides)
electric mopeds and scooters.
Payments for big means of transport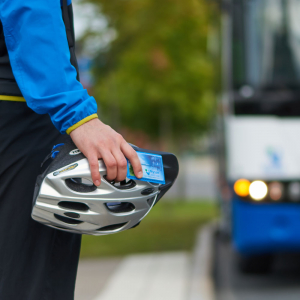 You have to buy a single ticket for big means of transport. In addition to the ticket, a night fare will be charged from 00.00 to 04.40.
A paid mean of transport is an item of a person over 7 years of age (eg bicycles, kickboards and balance boards) that you cannot carry and that takes significant space from other passengers.
Pay for the ticket with a travel card. Make sure there is enough value left. Re-use your travel card with the ticket device after your own payment. The price will be charged according to your age group for the value loaded on the travel card.
Buy tickets on Nysse Mobile app one at a time. Select your own age group for both tickets. Confirm both tickets on all trips. You can find the tickets in the Nysse Mobile Tickets menu.
You can use the contactless payment if you pay for your own trip with another payment method (eg travel card). The local fee can only be used to pay for one ticket at a time.
Train trips follow VR's instructions, read the instructions on VR's website ›

Prepare for rush hours
Be prepared that you may not be able to take the shift you pursued,as the space for aids and other means of transport is limited. Boarding takes place in order of arrival, various customer groups have not been prioritized.
The busiest hours are 7-9 a.m. and 2-6 p.m. on weekdays. You can check the trip from the journey planner.