Hervanta - Hakametsä
The bus line 3R will operate on the tram route between Hakametsä and Hervanta during a tram disruption. The schedules are not available for they are planned depending on the situation.
You can use the bus stops along the tram route. There are connections to and from the city center in Hakametsä.
Hakametsä - Hervanta
Pyynikintori - Hervanta
The service of tram 3 can be interrupted for the entire route only in very rare situations. If the disruption is estimated to be long-lasting, a replacement service for bus 3R can be started between Pyynikintori and Hervanta. Timetables will be planned for the line depending on the situation.
The bus runs on the route of tram 3 and it uses the bus stops along the route. There is no substitute bus stop for Tulli, Koskipuisto and Tuulensuu tram stops.
If necessary, the bus service can also be started only between Pyynikintori and Hakametsä. However, the primary replacement bus in this route section is bus 7R.
Pirkankatu: Pyynikintori - Aleksanterin kirkko/Metso
Hämeenkatu: Keskustori - Rautatieasema
Itsenäisyydenkatu: Sorsapuisto
Sammonkatu: Sammonaukio - Kaleva - Uintikeskus - Kalevanrinne - Hakametsä
Hervannan valtaväylä: Turtola - Lukonmäki pohj. (Hallila)
Insinöörinkatu: Pohjois-Hervanta - Opiskelija - Hervantakeskus - Hervannan kampus - Etelä-Hervanta
Makkarajärvenkatu: Hervantajärvi
Lintuhytinkatu: Lintuhytti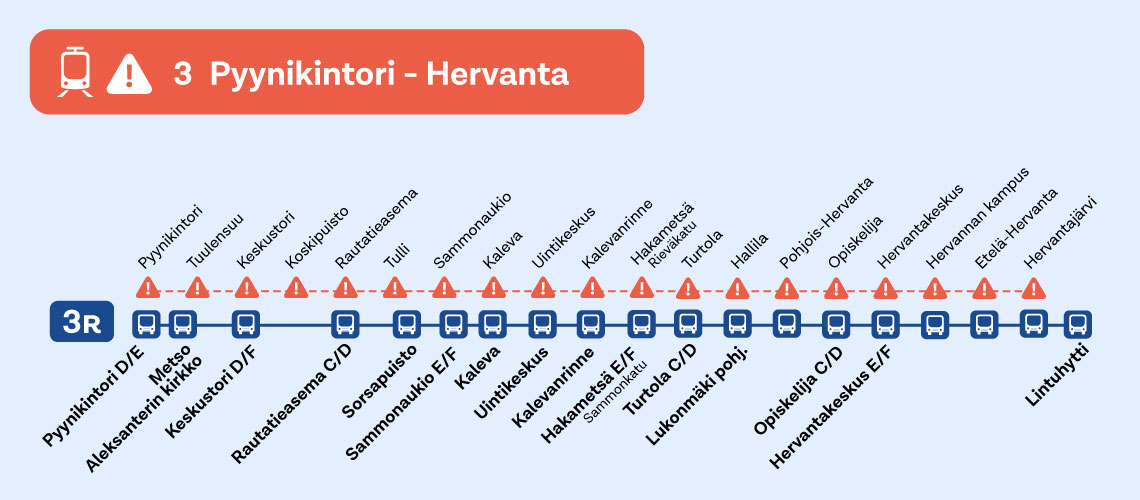 Get help from The Journey Planner
During a mild tram disruption, you can continue your journey by bus. Some trips may be cancelled, but all the tram routes are in use. If necessary, find an alternative trip in the Journey Planner:
give the location permit and select "Buses and nearby stops on the map" or
find a new route for your trip by entering your departure and destination details.